Salina Art Center and Rolling Hills Zoo have partnered together for ART GONE WILD 2019! Scroll down to register for the Plein Air art class with Peggy Wilson.
ART GONE WILD PREVIEW SHOW
Aug. 2 - Aug. 31
Salina Art Center is going to the animals! Visit the side gallery and learn more about the animal artists who call Rolling Hills Zoo home. Animal enrichment enhances the day to day living conditions for zoo animals. Learn more about how Rolling Hills Zoo incorporates art as an enrichment activity in their conservation strategy.
Aug. 2; 5-7pm @ Salina Art Center
Opening reception with Keepers on hand to discuss animal enrichment at at the Zoo. View art created by the animal artists at Rolling Hills.
Join Brenda Gunder, Rolling Hills Zoo's Animal Curator and learn more about how Rolling Hills Zoo keepers use art to enrich the daily lives of the animals who call the zoo home. Hands on art activities for all ages available in the Salina Art Center ARTery. Zoo keepers may also introduce us to a couple special guests!
August 24, 2pm @ Salina Art Center
FREE; Open to everyone
PLEIN AIR WORKSHOP W/ PEGGY WILSON
Friday, September 13; 9am-5pm
Learn from Peggy Wilson from Kansas City, MO. Peggy is the founder of the Urban Sketchers group of KC. Spend the first half of your day at the Art Center learning from Peggy; the second half at Rolling Hills Zoo working while Peggy offers on the spot feedback!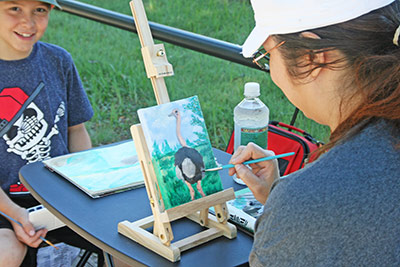 This amazing plein air art event at Rolling Hills Zoo is a one of a kind opportunity you don't want to miss.

This project was funded in part by the Horizons Grants Program of the Salina Arts and Humanities Foundation. Funding is provided by Horizons, a private donor group.